SHOPIFY & SHOPIFY PLUS

FUTURE ECOMMERCE
We are Sydney based Shopify Developers. With Shopify, you can reach more customers and grow your business quickly and easily.
Copyright Rival Digital Pty Ltd. All Rights Reserved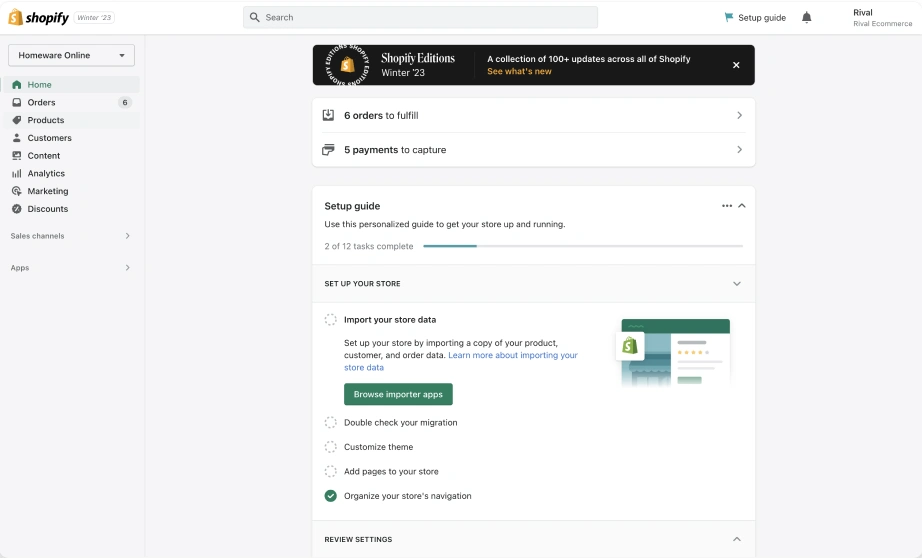 Features
Shopify is more than just a platform for creating an online store - it's a powerful tool for businesses of all sizes to grow and succeed in the ecommerce world. With its customizable design options, intuitive checkout process, and extensive range of features, Shopify provides everything you need to establish and scale your online presence.
What's more, Shopify has proven its worth as a leading ecommerce solution, with a clientele that includes some of the biggest names in the world of business, such as Tesla, Red Bull, and Budweiser. Whether you're a small startup or a large enterprise, Shopify is the perfect choice for building a thriving online store that can reach customers all over the world.
In addition to its traditional offering, Shopify also offers a headless commerce solution, allowing developers to decouple the frontend of a Shopify store from the backend. This gives developers the flexibility to build a custom frontend using any programming language or framework, while still leveraging Shopify's secure and scalable backend to manage transactions, fulfill orders, and store customer data.
With headless Shopify, businesses can create a truly unique and personalized shopping experience for their customers, all while taking advantage of Shopify's reliability and ease of use. Whether you're a small business looking to make a big impact, or a large enterprise looking to drive growth, headless Shopify is a game-changer for the ecommerce world.
Key features:
User-friendly Website Builder: Create a professional-looking website with ease using Shopify's drag-and-drop builder, no coding skills required.
Integrated Blogging Platform: Promote your products and engage with customers through valuable content and stories on Shopify's built-in blogging platform.
Reliable Payment Gateway: Start accepting payments right away with Shopify's integrated payment gateway, supporting multiple currencies and a wide range of payment options.
Secure Shopping Cart: Keep customer information safe and process transactions securely with Shopify's secure shopping cart system.
24/7 Customer Support: Get the help you need, when you need it, from Shopify's team of experts, available 24/7.
Robust App Store: Enhance your online store with hundreds of third-party integrations, including marketing, shipping, and accounting tools.
Advanced Analytics and Reporting: Track your sales, customer behavior, and website traffic with Shopify's advanced analytics and reporting capabilities.
Custom Code and Expert Support: Add custom code to your store or hire a Shopify expert to create a truly unique and customized online store.
Mobile Optimization: Provide a seamless shopping experience on any device with Shopify's mobile optimization.
Seamless Shipping Integrations: Manage and ship orders with ease thanks to Shopify's seamless integration with major shipping carriers.
SEO-Friendly Features: Improve your search engine rankings and reach more customers with Shopify's range of SEO features and tools.
Flexible Design System: Choose from a wide range of themes and customize your store's look and feel to match your brand with Shopify's flexible design system.
Shopify also offers users the ability to sell on multiple channels, including social media, online marketplaces, and in-person with Shopify POS. With Shopify, you can reach more customers and grow your business quickly and easily.
Licences and Pricing
Shopify is a platform for businesses of all sizes to create an online store. Shopify has three different pricing plans, which are:
Basic Plan ($29 per month)
Online store with a customizable website and blog
Unlimited products
Ability to sell on multiple sales channels, including online, in-person, and on social media
Secure shopping cart and checkout
2 staff accounts
24/7 customer support
Fraud analysis
Shipping discounts through Shopify Shipping
Shopify Plan ($79 per month)
Five staff accounts
Advanced report builder and analytics
Gift card and discount code creation
Abandoned cart recovery
Access to the Shopify POS app
Fraud analysis and protection
Access to professional reports
Advanced Plan ($299 per month)
15 staff accounts
Advanced custom checkout
Third-party calculated shipping rates
Advanced report builder and analytics
Access to the Shopify Plus Launch team
Priority support 24/7
Lower credit card fees
Please note that this is just a general breakdown of the features included at each pricing level and may be subject to change. It is recommended to check the Shopify website for the most up-to-date information on pricing and features.
There is also a Shopify Plus plan for enterprise businesses, which is priced at $2000 per month.
At a basic level, Shopify is aimed at smaller businesses who want to quickly get up and running with an online store without having to worry about the technical aspects of setting everything up. It offers a simple, user-friendly interface that makes it easy to create your online store and customize its look and feel. Shopify also comes with extensive built-in features like inventory management, order tracking, payment processing, shipping options, customer support tools, marketing tools, and more.
Shopify Advanced, on the other hand, is aimed at larger businesses that need more advanced features and functionality to help them manage and grow their online stores. Shopify Plus offers all of the same features as Shopify, but with additional capabilities designed to meet the needs of growing businesses. It provides a robust set of tools for managing multiple users and storefronts, plus extensive customer support resources to help you troubleshoot any issues or answer questions along the way.
Ultimately, whether Shopify or Shopify Plus is right for your business depends on a number of factors including your budget, technical expertise, store size and traffic volume, business requirements and growth plans, among others. To decide which platform is best for you, it's important to consider your unique needs and carefully evaluate the different features, tools, and support resources that each platform has to offer. With a little research and some careful consideration, you should be able to identify the right ecommerce platform for your business.
Marketplace & Extensions
Shopify has a lot of great features right out of the box. But if you need more, there are plenty of extensions and plugins available to add extra functionality. Prices for these vary depending on the developer, but they generally range from $0-$100.
Popular Shopify Marketplace Apps
Oberlo
Kit
SEO Manager
Mailchimp for Shopify
Product Reviews
These are just a few of the most popular Shopify Marketplace Apps. There are hundreds of others available, each with their own unique features and capabilities. When choosing an app, be sure to carefully consider your business needs and choose an app that is the best fit for you.
Some popular Shopify extensions are developed by:
Ongoing Support & Maintenance
Shopify understands the importance of having reliable and efficient support for their users. That's why they offer 24/7 email and English live chat support on all Shopify plans, making it easier for you to get the help you need, when you need it. Whether you have a question about your website or need technical support, Shopify's support team is always there to assist you.
For businesses on the Basic Shopify plan or higher, Shopify also provides 24/7 English phone support. This means that you can speak directly with a support representative and receive immediate assistance. With this level of support, you can focus on growing your business, knowing that Shopify has your back.
Shopify's commitment to providing high-quality support and maintenance is one of the reasons why it is a leading ecommerce platform for businesses of all sizes. Whether you are just starting out or are an established brand, Shopify is dedicated to ensuring that you have the resources and support you need to succeed online.
Hosting & Server Requirements
With Shopify, businesses can enjoy hassle-free and secure ecommerce hosting on all plans except for Shopify Lite. The platform provides unlimited bandwidth for free, ensuring that your online store will always perform at its best and never be slowed down by traffic spikes. This allows you to focus on growing your business and not worry about server upgrades and maintenance.
In addition to hosting your online store, Shopify also provides the Buy Button, which allows you to add ecommerce to any existing website. Whether you're a small business looking to establish a new online presence, or an established brand looking to expand your reach, the Buy Button makes it easy to reach more customers and increase sales.
Shopify's hosting and server requirements are designed to meet the needs of businesses of all sizes, from startups to enterprise-level brands. With Shopify, you can be confident that your online store is in good hands, and that your business will always have the support it needs to succeed online.
Release Cycle
As a hosted solution, Shopify provides businesses with the peace of mind that comes from knowing that their online store is always up-to-date with the latest features and security updates. With Shopify, you don't need to worry about managing software updates or server upgrades – all of that is handled by Shopify's expert team of developers and engineers.
Shopify receives regular updates throughout the year, ensuring that businesses can take advantage of new features and functionalities as soon as they become available. These updates help businesses keep pace with the latest developments in ecommerce, and provide them with the tools they need to grow and succeed online.
Payment Gateways
As an ecommerce platform, Shopify understands the importance of providing businesses with a range of payment gateway options to choose from. With this in mind, Shopify supports a variety of popular payment gateways including PayPal, Authorize and Braintree, making it easy for businesses of all sizes to accept payments from their customers.
By offering a range of payment gateway options, Shopify gives businesses the flexibility to choose the solution that works best for them, taking into account factors such as ease of use, fees, and security. Whether you're a small business just starting out, or a large enterprise with high-volume sales, Shopify has you covered with a payment gateway solution that meets your needs.
If you're looking for even more payment gateway options, Shopify provides a comprehensive list of additional options on its website. This includes a range of popular payment gateways, as well as some lesser-known options that may be a good fit for your business, depending on your specific needs and requirements.
With Shopify, you can rest assured that you're working with a platform that understands the importance of providing businesses with the tools they need to succeed online. So why not sign up for Shopify today, and start accepting payments from your customers with confidence!
More payment gateway options are available here